Printer-friendly page
El festival oficial de comida de la región Piedmont Triad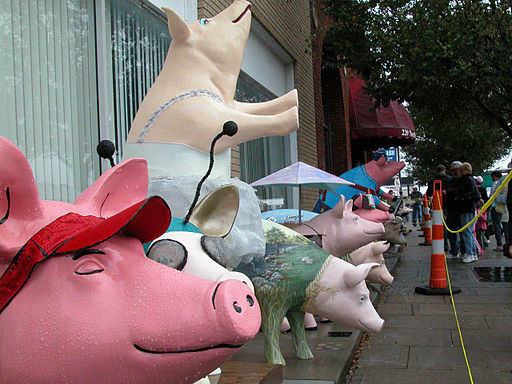 Extraído de Libro de hechos de El Viejo Estado del Norte. La propiedad literaria 2011 por la Oficina de Archivos e Historia de Carolina del Norte, Departamento de Recursos Culturale de Carolina del Norte. Todo los derechos reservados. Para uso personal y educativo.
Aprende más: Libro de Hechos de El Viejo Estado del Norte; Símbolos y otras adopciones oficiales (en inglés)
La Asamblea General del 2007 adoptó el Festival de Barbacoa de Lexington como el festival de comida oficial de la Región Piedmont Triad de Carolina del Norte (G.S. 145-28).
El primer Festival de Barbacoa de Lexington anual se llevó a cabo el 27 de octubre de 1984, con un estimado de 30,000 participantes disfrutando 3,000 libras de barbacoa preparada para el evento inagural. Diez años más tarde, más de 100,000 personas disfrutaron del festín de  11,000 libras del pernil de cerdo lentamente cocinado con sabor a nogal ahumado (Hickory Smoked) con una mezcla distintiva de vinagre, salsa de tomate, sal, agua y pimienta (una mezcla conocida como inmersión o "dip"). Para el 2014, se estima que 200,000 visitantes se congregaron  en "Uptown Lexington," un testimonio de la continua popularidad del evento. 
La deliciosa comida es definitivamente el punto culminante del festival, pero no es la única atracción. Esculturas de arena, artes y artesanías con jueces, algunos artistas y carreras de cerdos son sólo una muestra de la diversión. Más aún, la ciudad de Lexington y el condado de Davidson han nominado el mes de octubre como el "Mes de la Barbacoa." Varias actividades se llevan a cabo desde principios de mes hasta el comienzo del festival, incluyendo torneos deportivos y concursos con tema relacionado a los cerdos. Fue seleccionado como uno de los primeros diez festivales de comida en el país por la revista "Travel & Leisure," y uno de los primeros veinte eventos en el mes de octubre por la Sociedad de Turismo del sudeste. Los participantes pueden competir en el evento de ciclismo Tour de Pig, el maratón "Hawg Run" o el concurso de composición de historias "Pig Tale."
El Festival de Barbacoa de Lexington se celebra cada año en uno de los últimos dos sábados de octubre, y la entrada es gratis.
Additional information from NCpedia editors at the State Library of North Carolina: :
Statistical updates provided by the Barbecue Festival "History" page at https://www.barbecuefestival.com/p/history.
22 July 2019