Printer-friendly page
Raper, Charles Lee
10 Mar. 1870–27 Dec. 1957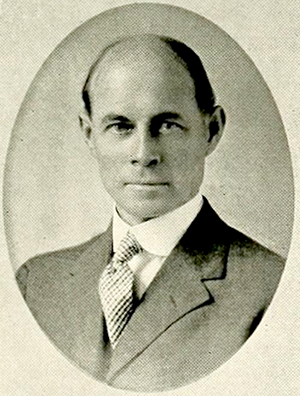 Charles Lee Raper, historian, economist, and educator, was born near High Point, the son of Solomon Andrew and Luzena Hitchcoch Raper. He was graduated in 1892 with a B.A. degree from Trinity College (now Duke University) when it was located in Randolph County and served as Latin and Greek instructor at Trinity the following year. From 1894 to 1898 he taught at the Greensboro Female College. Under the direction of Professor Herbert L. Osgood, he was awarded the Ph.D. degree from Columbia University in 1902; in 1900 and 1901 he also lectured at Barnard College and Columbia.
In the latter year Raper returned to North Carolina and began a successful academic career at The University of North Carolina, serving first as associate professor of economics and history (1901–6), then professor of economics (1906–20). He also headed the economics department at one time and served as dean of the Graduate School (1909–20). In 1920 he moved to Syracuse University, serving first as professor of transportation, then as dean of business administration (1921–43), and subsequently as vice-chancellor of the university (1936–42). A noted authority on taxation and transportation, Raper was a member of the New York State Planning Council (1934–41) and administrator for the War Transportation Commission for Syracuse and Onondaga County (1942–45), formulating numerous reports on industrial trends and taxation for both the state and national governments. He was known particularly for his strong opposition to the St. Lawrence Seaway development and criticism of the Tennessee Valley Authority. Raper also served on the New York Council against Discrimination in Employment (1946–57).
An outstanding scholar and writer, he was the author of many articles and books, including The Church and Private Schools of North Carolina (1898); A Study in English Colonial Government (1904), the first definitive study of the provincial government in North Carolina; Principles of Wealth and Welfare (1906); and Railway Transportation (1912). He received honorary degrees from Lenoir-Rhyne (1917), Duke University (1939), and Syracuse University (1944).
In 1904 Raper married Henrietta Frost Williams, of Paterson, N.J., who predeceased him. Both were buried in Syracuse, N.Y. They were the parents of a daughter, Mary Lee (Mrs. Kenneth S. Graves).
References:
High Point Enterprise, 16 Sept. 1928.
New York Times, 29 Dec. 1957.
Charles L. Van Noppen Papers (Manuscript Department, Duke University Library, Durham).
Who Was Who in America, vol. 4 (1940).
Additional Resources:
Image Credits:
1 January 1994 | Raper, Horace W.