Printer-friendly page
Balinese masked dancer costumed as Sugriva the red monkey king
A Balinese masked dancer is costumed as Sugriva, the red monkey king character from the Ramayana.
Seen from the waist up, the male dancer wears a red knit shirt, elaborate sequined collar, gold crown, and a fanged wooden mask running from his nose down to his chin. Dark black hair is attached to the sides and bottom of the red painted mask.
In Balinese masked dances, half masks are characteristic of animal and clown characters, whose humorous, improvised antics are much beloved by Indonesian audiences.
In the Ramayana, the hero Rama is aided by the monkey god Hanuman. Hanuman's earthly monkey relatives become Rama's allies in the effort to rescue his abducted wife Sita from the island of the demon king Ravana.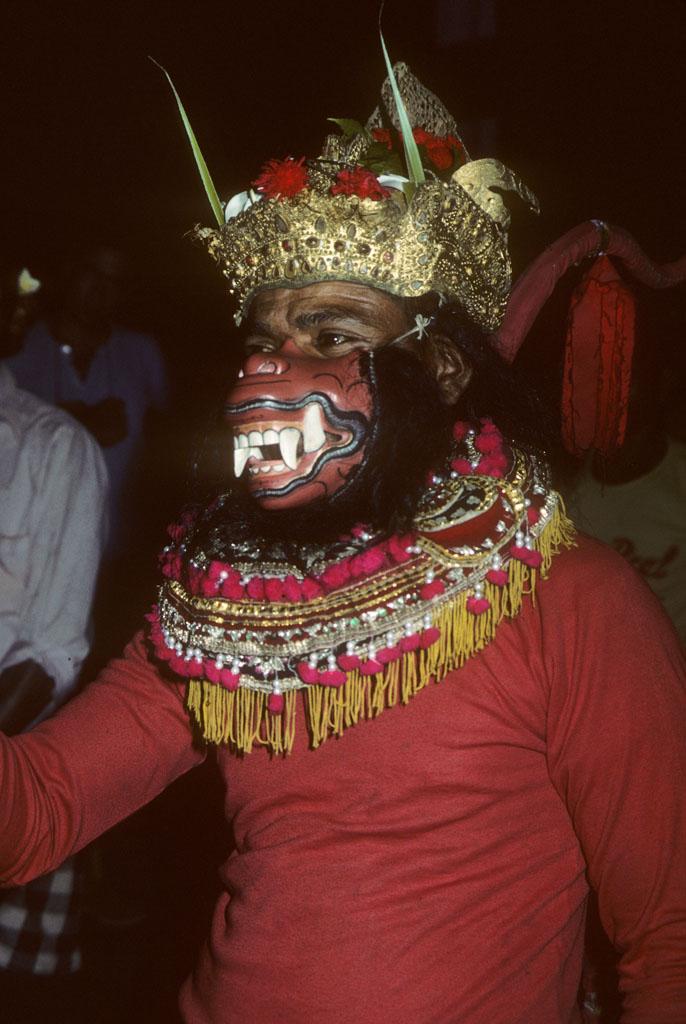 Usage Statement:
This item has a Creative Commons license for re-use.  The Creative Commons BY NC SA license means that you may use, remix, tweak, and build upon the work for non-commerical purposes purposes as long as you credit the original creator and as long as you license your new creation using the same license. That means that you cannot alter it. For more information about Creative Commons licensing and a link to the license, see full details at https://creativecommons.org/licenses/by-nd/4.0/.