Printer-friendly page
Glenn, Cornelia G. "Nina" Deaderick
by Marie Sharpe Ham, Debra A. Blake, and C. Edward Morris. Excerpted from North Carolina's First Ladies, 1891-2001, copyright 2001. Reprinted with permission from North Carolina Historical Publications, North Carolina Department of Natural and Cultural Resources.
4 Sep, 1854 - 9 Dec 1926
See Also: Robert Glenn - Dictionary of North Carolina Biography; Governor Robert Glenn - Research Branch, NC Office of Archives and History; First Ladies and Gentlemen of North Carolina NCpedia collection.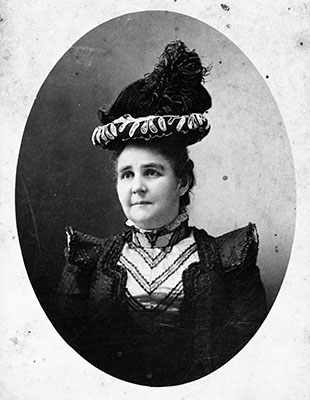 Cornelia G. "Nina" Glenn, wife of Governor Robert Brodnax Glenn, introduced cater­ers and an air of formality to the Executive Mansion. Servants there served all meals, including breakfast, with full silver place settings in a formal atmosphere. Nina Glenn's parties were lavish and well planned. Among a number of dignitaries who visited the mansion during her husband's term of office were William Jennings Bryan and President William Howard Taft. Like first ladies before her, Nina Glenn graciously presided over many luncheons and teas, in spite of her innate shyness. She was very proper and firmly backed her husband's championship of statewide prohibition. Her own interests included gardening and music. Residing in the Executive Mansion along with the Glenns (except for their son Chalmers, who was married and lived elsewhere) was Ann Dodge Glenn, called Dodge, a niece of the gover­nor, who recalled that Nina Glenn could be quite stern but entertained beautifully.
In its coverage of Robert B. Glenn's inauguration as governor and related festivities, the Raleigh News and Observer commented on the large party of Winston-Salem citizens that accompanied the Glenns to Raleigh. Not only the Glenns' family but also many of their friends attended the events of January 6, 12, and 13, 1905. The reception was not held at the Executive Mansion, as had been customary, nor, after the inauguration, were the Glenns able to move into the mansion because it was under quarantine. Louise Aycock, daughter of Governor Glenn's predecessor, had diphtheria and, with Cora Aycock, remained in the man­sion. It was not until January 17 that the Aycocks, the doctor, and the nurse who helped care for the child were able to leave and the Glenns could move into their new official home.
Nina Deaderick, born September 4, 1854, in Jonesboro, Tennessee, to John Franklin and Rebecca Lanier Williams Deaderick, was the youngest of a large number of children. The Deadericks were a prominent, civic-minded Tennessee family. One of Nina Deaderick's uncles was the chief justice of the Tennessee Supreme Court. Another of her uncles was a United States senator from Tennessee, and still another was a member of that state's General Assembly. Her grandfather, David Deaderick, likewise served in the Tennessee General Assembly and was a prominent businessman.
On January 8, 1878, Nina married Robert Glenn in Knoxville, Tennessee. Glenn and his new wife were actually distant cousins through their mothers. Rebecca L. Williams Deaderick's sister, Susan, married James R. Dodge. Their daughter, Annie Dodge, married Chalmers L. Glenn, father of Robert Brodnax Glenn. Robert and Nina Glenn had two sons and a daughter. Chalmers Lanier Glenn was born January 5, 1879, and later married Jessie Morrow and had one son. Frank was born in 1880 and died the following year. Rebekah Williams Glenn was born April 28, 1883, and later married Daniel E. Hoffman and had two daughters. In 1885 the Glenns moved to Winston-Salem from Stokes County, where Robert Glenn had practiced law and which he had represented in the state legislature.
After the Glenns left Raleigh they moved back to Winston-Salem, where Nina Glenn was active in the First Presbyterian Church. Her obituary in the Winston-Salem Journal (December 10, 1926) quoted her friend, Mrs. W. C. Wright: "'She adhered to the simple tastes of life- her home, family, church and friends were the center of her heart 's desire and sacred interest."' An editorial in the same issue declared: "Always she insisted with unostentatious firmness upon being faithful to the principles which she deemed to be necessary to right living." Nina Deaderick Glenn died of a lengthy illness on December 9, 1926, at the age of seventy­ two. She was buried in Salem Cemetery in Winston-Salem.
References:
Ham, Marie Sharpe, Debra A. Blake, and C. Edward Morris. 2001. North Carolina's First Ladies, 1891-2001. Raleigh, N.C.: Executive Mansion Fine Arts Committee and Executive Mansion Fund.
Image Credits:
Blackshear. [Nina Deadrick Glenn, wife of Governor Robert Broadnax Glenn]  Macon, GA. N_2000_5_67. Photograph. State Archives of North Carolina.
27 July 2017 | Blake, Debra A.; Ham, Marie Sharpe; Morris, C. Edward