Printer-friendly page
Alexander, John Brevard
27 May 1834–24 June 1911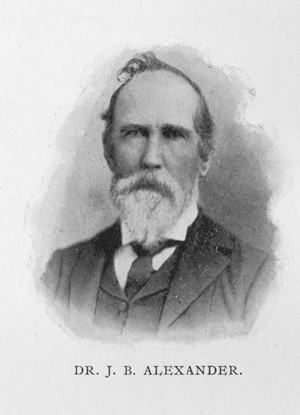 John Brevard Alexander, physician, historian, and churchman, was born in Lemley's Township, Mecklenburg County. Of Scot-Irish ancestry, he was the son of Robert Davidson Alexander, grandson of William B. Alexander, and greatgrandson of John McKnitt Alexander. His mother was Abigail Bain Caldwell, daughter of Samuel Craighead Caldwell, granddaughter of David Caldwell, and greatgranddaughter of Alexander Craighead. In 1850 young Alexander entered Davidson College from Alexandrianna and there joined the Masonic fraternity. He was graduated in 1852 with high honors and afterward began a course of study at the Medical College of South Carolina, from which he was graduated in 1855 at the top of his class.
During the Civil War Alexander served in Company C, Thirty-seventh North Carolina Infantry, first as a private (1861–62) and then as a surgeon (1862–65). After the war he returned to his home county to resume his medical practice. In 1890 he and his family moved to North Tryon Street in Charlotte. He managed a drugstore in connection with his profession throughout his career until 1898, when his health declined.
On 18 May 1858 Alexander was married to Annie Wall Lowrie, the granddaughter of Superior Court Judge Samuel Lowrie. They had six children: Robert D. (d. 1901); Dixie (d. 1909); Annie Lowrie, M.D., one of the earliest women from the South to be graduated from the Woman's Medical College, Philadelphia (1884); Lucy (d. December 1919), wife of J.H. Halliburton; Samuel Lowrie (d. 1887); and James Houston, a farmer at Goldston, Chatham County.
Alexander wrote three books, Biographical Sketches of the Early Settlers of the Hopewell Section (1898), The History of Mecklenburg County from 1740 to 1900 (1902), and Reminiscences of the Past Sixty Years (1908). He also compiled a sketch of local church history, "Presbyterianism, How and Where It Was First Planted in Mecklenburg County."
He was an elder of the Bethel Presbyterian Church for thirty-five years, and after moving to Charlotte he was active in the First Presbyterian Church there. He died at his home in Charlotte and was buried in Elmwood Cemetery.
References:
Alexander's own books (cited in the text).
Charlotte News, 25 June 1911.
Davidson College Alumni Catalogue (1924).
North Carolina: Rebuilding an Ancient Commonwealth, vol. 4 (1929).
Charles L. Van Noppen, "Biographical Sketch of John Brevard Alexander, M.D." (Manuscript Department, Library, Duke University, Durham).
Image Credits:
Dr. John Brevard Alexander. Photo courtesy of the Robinson-Spangler Carolina Room, available from the Charlotte Mecklenburg Story. 
1 January 1979 | Murphy, Eva B.