Printer-friendly page
Uniformed guard sits with two small children at Banteay Srei Temple
Uniformed guard sits with two small children at Banteay Srei Temple
A security guard in a tan uniform and cap sits with two small shirtless children on at stoop at Banteay Srei Temple, located about twelve miles north of Angkor. The little girl stands by the guard's knee wearing a full-length, patterned red skirt. The boy sitting behind her wears light colored pants.
A headless stone statue is visible at the front, and it blocks the view of another small girl. Behind the guard and two children appears a carved stone temple front with a wall niche containing a small bas-relief of a female deity (known as devata) promoting fertility and blessings.Banteay Srei is a Hindu temple dedicated to the god Siva that was built during the tenth century A.D. It was constructed by Yajnyavaraha during the reign of two Khmer kings whom he served as councillor: Rajendravarman and Jayavarman V. The name Banteay Srei means "Citadel of Women."
Classical Khmer kings promoted the idea (known as devaraja) that there was an intersection of the ruling king and a validating god, usually the Hindu god Siva. Their temples thus often portray the ruling king as the god, whose shrines are within a monument on earth that models the design of the cosmos and heavens.
Banteay Srei is an early classical Khmer temple that is noted for the small scale of its compound (only eighty feet square) and its exquisitely fine carvings. Because the sandstone used here was of a more durable variety than the stone used at the main Angkor sites, it allowed for a precise, wood-like style of bas-relief carving, which also has retained greater preservation over the centuries. The Banteay Srei site originally contained many free-standing statues of deities and guardian spirits, although most of the originals are now removed, either by thieves or for museum preservation.
The style of the buildings, abstract motifs, and bas-reliefs depicting Hindu epic scenes is described by Southeast Asian art historians as partly archaic, but also sometimes progressive in terms of where classical Khmer temple art would lead. Overall, Banteay Srei is considered a small but precious jewel among the Angkor kingdom temples.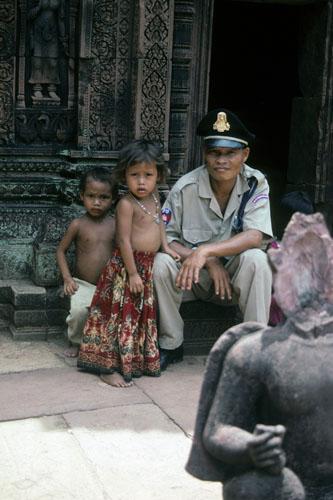 Usage Statement:
This item has a Creative Commons license for re-use.  The Creative Commons BY NC SA license means that you may use, remix, tweak, and build upon the work for non-commerical purposes purposes as long as you credit the original creator and as long as you license your new creation using the same license. That means that you cannot alter it. For more information about Creative Commons licensing and a link to the license, see full details at https://creativecommons.org/licenses/by-nd/4.0/.