Pearl Harbor widows at work
Original caption: "Pearl Harbor widows have gone into war work to carry on the fight with a personal vengeance, Corpus Christi, Texas. Mrs. Virginia Young (right) whose husband was one of the first casualties of World War II, is a supervisor in the Assembly and Repairs Department of the Naval Air Base. Her job is to find convenient and comfortable living quarters for women workers from out of the state, like Ethel Mann, who operates an electric drill."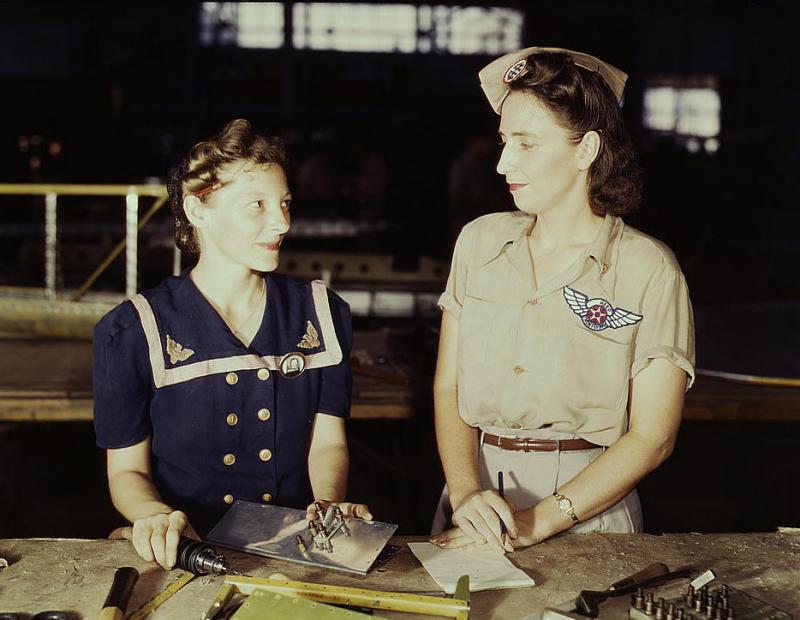 Usage Statement:
Public Domain is a copyright term that is often used when talking about copyright for creative works. Under U.S. copyright raw, individual items that are in the public domain are items that are no longer protected by copyright law. This means that you do not need to request permission to re-use, re-publish or even change a copy of the item. Items enter the public domain under U.S. copyright law for a number of reasons: the original copyright may have expired; the item was created by the U.S. Federal Government or other governmental entity that views the things it creates as in the public domain; the work was never protected by copyright for some other reason related to how it was produced (for example, it was a speech that wasn't written down or recorded); or the work doesn't have enough originality to make it eligible for copyright protection.