Painted tiles commemorating independence
A wall of tiles has been painted with a historical scene of the movement for independence. Behind a cauldron a fire a man, most likely Simon Bol?â?¡var, holds a broken chain. The right of the mural is a cross section of the population of Ecuador: farmers, businessmen, and indigenous laborers.Ecuador won its independence from Spain through the efforts of "The Liberator," of South America, Simon Bol?â?¡var. In 1822, Ecuador joined Bol?â?¡var's Gran Colombia, a newly-formed confederacy made up of Venezuela, Colombia, and Ecuador. Bol?â?¡var then used Colombia as a staging point to invade Spain's last hold-out in South America—Peru. In 1830, Ecuador broke free of Gran Colombia to become an independent nation.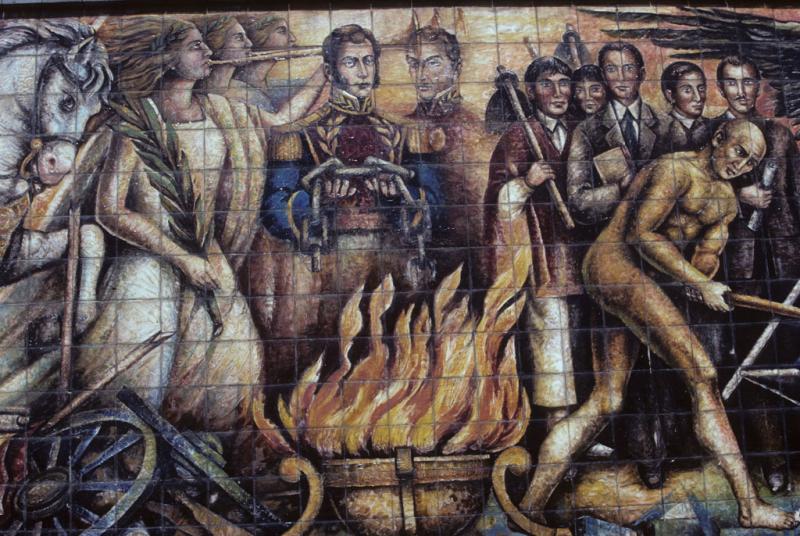 Usage Statement:
This item has a Creative Commons license for re-use.  The Creative Commons BY NC SA license means that you may use, remix, tweak, and build upon the work for non-commerical purposes purposes as long as you credit the original creator and as long as you license your new creation using the same license. That means that you cannot alter it. For more information about Creative Commons licensing and a link to the license, see full details at https://creativecommons.org/licenses/by-nd/4.0/.