Printer-friendly page
Hermit speaks to Rama, Laksman, and Sita (Thai Ramayana mural)
A forest hermit speaks to Rama, Sita, and Laksman, as seen on a mural painting at the Emerald Buddha Temple. The forest hermit's respected position as a wise sage is shown by his elevated position sitting on a stone platform at left. Rama, Laksman, and Sita kneel on the ground at right. The hermit holds a palm leaf fan on a long handle.
The hermit's stone platform is backed by three other large bounders, and the meeting area is fringed by green and blue-leafed trees. Note the tiny size of trees in the foreground compared to the size of the human figures. Although the trees' scale appears "wrong," the tiny trees may also form a background for another scene in the mural that appears below this one.
Although the forest hermit's clothes appear to be made of bark or animal skins, Rama, Laksman, and Sita all wear crowns and their golden royal clothes. The green-skinned Rama kneels to the left, Laksman is in the middle, and a similarly attired Sita kneels to the right.
Note that the precolonial dress of Southeast Asian men and women was very similar. Both sexes generally used cloth to cover the area from their waists down to their knees or ankles, but clothing above the waist was somewhat optional, largely depending on temperature and the formality of the occasion.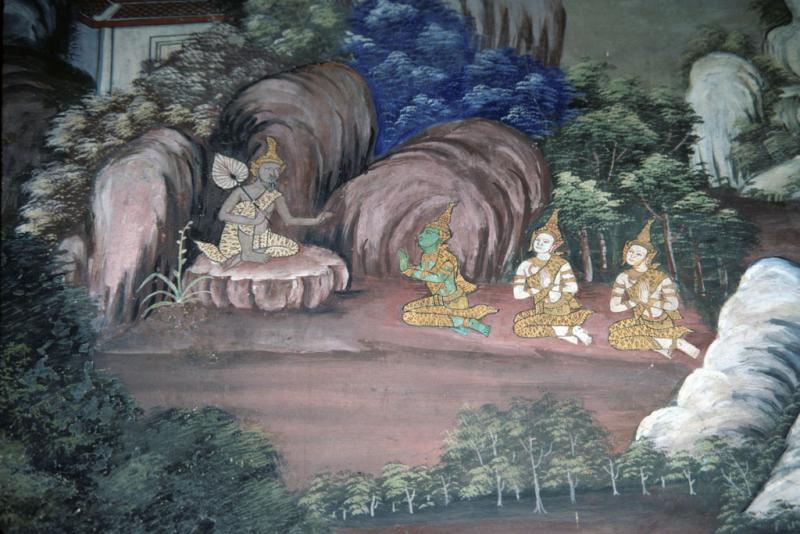 Usage Statement:
This item has a Creative Commons license for re-use.  This Creative Commons BY-NC-SA license means that you may use, remix, tweak, and build upon the work for non-commerical purposes as long as you credit the original creator and as long as you license your new creation using the same license. For more information about Creative Commons licensing and a link to the license, see full details at https://creativecommons.org/licenses/by-nc-sa/4.0/.