Flying demon shoots arrows that become serpents (Thai Ramayana mural)
A flying demon, visible in the upper left corner, shoots arrows that become serpents as they fall. The arrows become wavy as they rain down upon Rama's army. The demon moves actively in a cloud-filled sunset sky painted over a dramatic mountain and landscape scene.
When the arrows reach earth, they turn into serpents and wriggle along the ground attacking Rama's monkey troops. The battle takes place in the countryside near a river with mountains and clouds visible in the background.Ravana's demon son created deadly arrows with serpent venom, but Hanuman, who approached the demons in disguise as a bear, weakened the arrows' power so that they are not fatal, but rather change into serpents.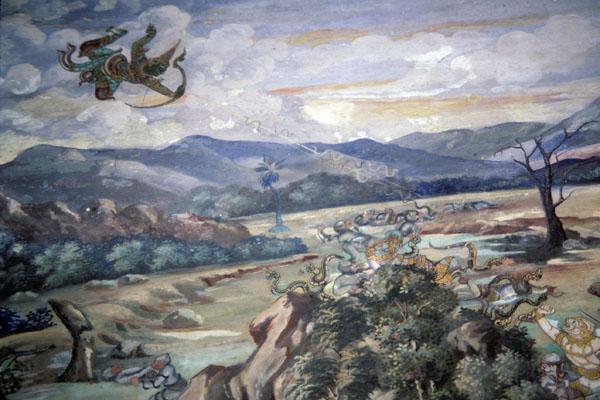 Usage Statement:
This item has a Creative Commons license for re-use.  The Creative Commons BY NC SA license means that you may use, remix, tweak, and build upon the work for non-commerical purposes purposes as long as you credit the original creator and as long as you license your new creation using the same license. That means that you cannot alter it. For more information about Creative Commons licensing and a link to the license, see full details at https://creativecommons.org/licenses/by-nd/4.0/.