Mattress rolls carried on bicycle rickshaw in Ho Chi Minh City's Chinatown
Two large rolls of quilted mattress pads are transported through a market street on a bicycle rickshaw, or cyclo, in Ho Chi Minh City's Chinatown. Pedestrians, motorcycles, and minibuses maneuver around the huge load. Simple transportation powered by human or animal labor often is used to transport heavy cargo for short distances in Southeast Asia. Shop signs, including one for Coca Cola, are visible on storefronts in the background. After years of tense foreign relations after the Vietnam War ended in 1975, the United States and Vietnam normalized diplomatic and trade relations by the 1990s. By that time, the U.S. was no longer trying to fight Communists, and Communist states such as Russia, China, and Vietnam all were partially opening their economies to some private trade.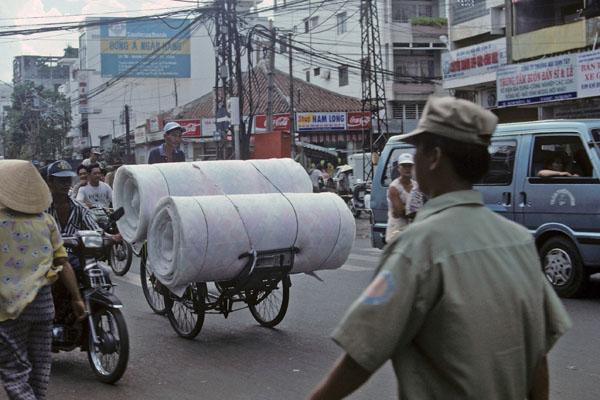 Usage Statement:
This item has a Creative Commons license for re-use.  The Creative Commons BY NC SA license means that you may use, remix, tweak, and build upon the work for non-commerical purposes purposes as long as you credit the original creator and as long as you license your new creation using the same license. That means that you cannot alter it. For more information about Creative Commons licensing and a link to the license, see full details at https://creativecommons.org/licenses/by-nd/4.0/.