Printer-friendly page
Letter from John Adams to Abigail Adams, 3 July 1776 - Had a declaration... (page 1 of 3)
First page of three-page letter from John Adams to Abigail Adams, July 3, 1776. The page reads
Philadelphia, July 3d. 1776
Had a Declaration of Independency been made seven Months ago, it would have been attended with many great and glorious Effects....We might before this Hour, have formed Alliances with foreign States. — We should have mastered Quebec and been in Possession of Canada... You will perhaps wonder, how such a Declaration would have influenced our Affairs, in Canada, but if I could write with Freedom I could easily convince you, that it would, and explain to you the manner how. — Many Gentlemen in high Stations and of great Influence have been duped, by the ministerial Bubble of Commissioners to treat... And in real, sincere Expectation of this effort Event, which they so fondly wished, they have been slow and languid, in promoting Measures for the Reduction of that Province. Others there are in the Colonies who really wished that our Enterprise in Canada would be defeated, that the Colonies might be brought into Danger and Distress between two Fires, and be thus induced to submit. Others really wished to defeat the Expedition to Canada, lest the Conquest of it, should elevate the Minds of the People too much to hearken to those Terms of Reconciliation which they believed would be offered Us. These jarring Views, Wishes and Designs, occasioned an opposition to many salutary Measures, which were proposed for the Support of that Expedition, and caused Obstructions, Embarrassments and studied Delays, which have finally, lost Us the Province.
This letter continues on a second page.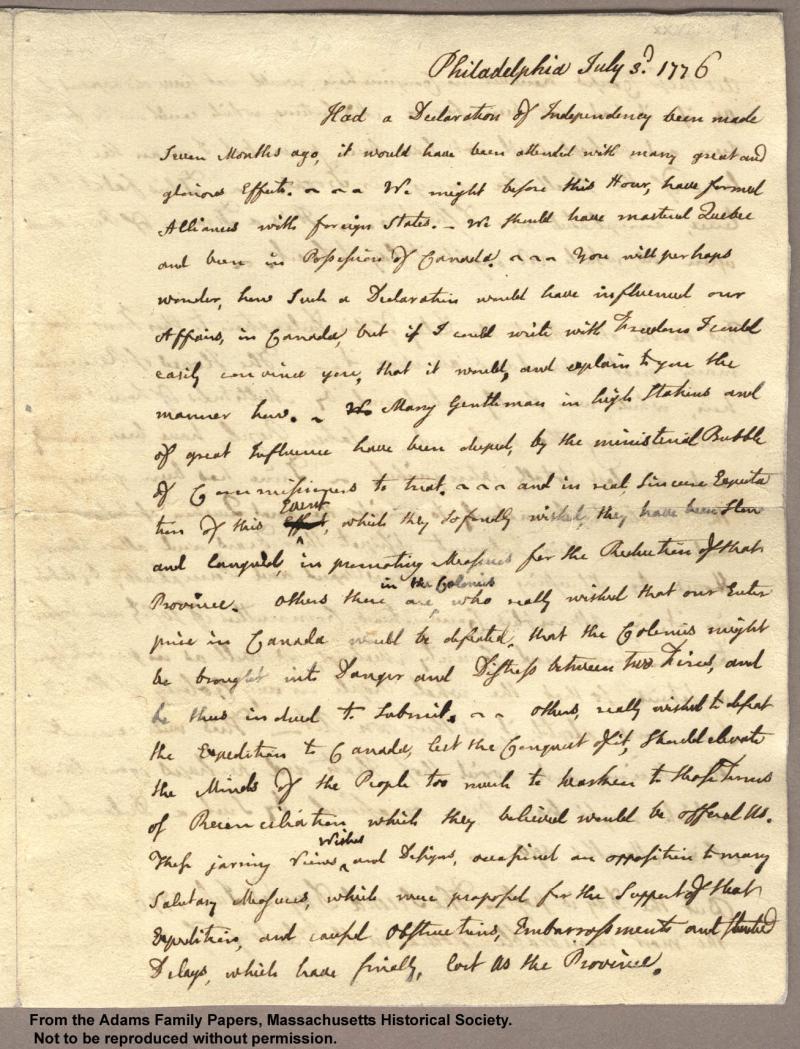 Usage Statement:
"All rights reserved" is a traditional copyright term that indicates that the copyright holder reserves for his/her/their own use all of the rights given to copyright owners under U.S. copyright law. Items that are included in NCpedia and/or ANCHOR with this rights statement appear by agreement or permission from the rights holder or the institution that holds the item. Click "Available at" to visit the website for the collection where the item appears for more information about the rights or specific uses allowed. For all other non-specified uses, please contact the copyright holder or item owner.