Printer-friendly page
Letter from John Adams to Abigail Adams, 3 July 1776 - Had a declaration... (page 2 of 3)
Second page of three-page letter from John Adams to Abigail Adams, July 3, 1776. The page reads:
All these Causes however in Conjunction would not have disappointed Us, if it had not been for a Misfortune, which could not be foreseen, and perhaps could not have been prevented, I mean the Prevalence of the small Pox among our Troops... This fatal Pestilence compleated our Destruction. — It is a Frown of Providence upon Us, which We ought to lay to heart.
But on the other Hand, the Delay of this Declaration to this Time, has many great Advantages attending it. — The Hopes of Reconciliation, which were fondly entertained by Multitudes of honest and well meaning tho weak and mistaken People, have been gradually and at last totally extinguished. — Time has been given for the whole People, maturely to consider the great Question of Independence and to ripen their judgments, dissipate their Fears, and allure their Hopes, by discussing it in News Papers and Pamphletts, by debating it, in Assemblies, Conventions, Committees of Safety and Inspection, in Town and County Meetings, as well as in private Conversations, so that the whole People in every Colony of the 13, have now adopted it, as their own Act. — This will cement the Union, and avoid those Heats and perhaps Convulsions which might have been occasioned, by such a Declaration Six Months ago.
But the Day is past. The Second Day of July 1776, will be the most memorable Epocha, in the History of America.
This letter is continued from a first page and continues on to a third page.
A previous letter, dated 3 July 1776, is also available.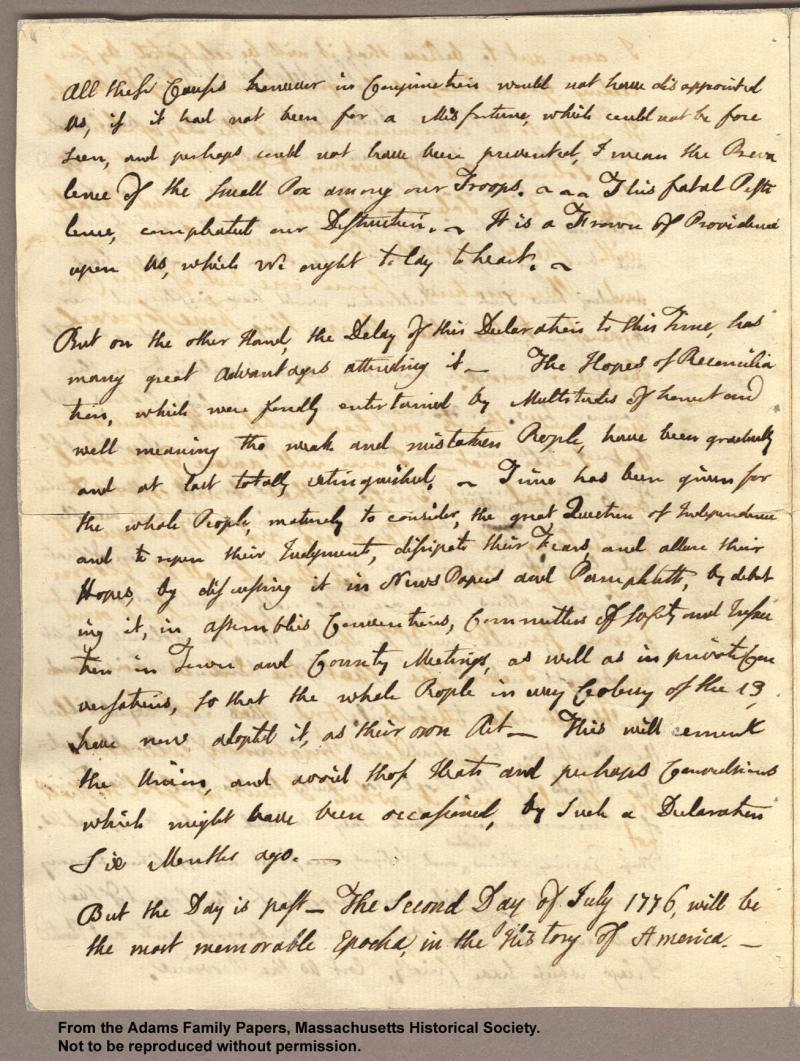 Usage Statement:
"All rights reserved" is a traditional copyright term that indicates that the copyright holder reserves for his/her/their own use all of the rights given to copyright owners under U.S. copyright law. Items that are included in NCpedia and/or ANCHOR with this rights statement appear by agreement or permission from the rights holder or the institution that holds the item. Click "Available at" to visit the website for the collection where the item appears for more information about the rights or specific uses allowed. For all other non-specified uses, please contact the copyright holder or item owner.