Printer-friendly page
Gilbert Town, Rutherford County
North Carolina Highway Historical Marker
This marker is located on US 221 (Main Street) at Hollands Creek in Rutherfordton, North Carolina. It identifies the vicinity where both the Patriot Overmountain Men and British troops camped before the Battle of Kings Mountain in September, 1780.
Excerpt from the essay of the North Carolina Highway Historical Marker Program at http://ncmarkers.com/Markers.aspx?MarkerId=O-4
"Gilbert Town served as camp for both the British and the Patriot armies during the Revolutionary War. In September of 1780, British Lieutenant Colonel Patrick Ferguson, part of Cornwallis's fighting force, moved into Rutherford County and camped at Gilbert Town. Ferguson, who hoped to meet with Cornwallis in Charlotte to expunge western North Carolina of rebel forces, ran various campaigns into the countryside from Gilbert Town during September. Ferguson also eventually drew the Overmountain Men, Patriot forces from the North Carolina backcountry, to him at Gilbert Town, through personal threats and warnings.
"With these threats, though, Ferguson also brought together the forces of backcountry North Carolina, Virginia, and present-day Tennessee. When the Overmountain Men reached Gilbert Town, they constituted a substantial fighting force. The Patriots camped and restocked their arms before continuing their pursuit of Ferguson. The Battle of Kings Mountain, widely acknowledged as a major turning point in the Revolutionary War, was a dramatic victory for the Patriots. The Overmountain Men annihilated Ferguson's command, killing 120 British soldiers including Ferguson, wounding 123 and taking an additional 664 captive, some of whom were held at Gilbert Town. This marked the beginning of a downward spiral for Cornwallis' forces in the South, culminating with his surrender at Yorktown in 1781."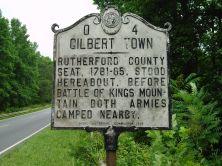 Citation (Chicago Style):
Read the related article:
Usage Statement:
The exact copyright and related rights status of this item is unknown or undetermined. You can use this item in a way that is permitted by the copyright legislation that applies to your use.