Child mummies in Guanajuato, Mexico
Two mummified corpses of young children are on display. The one on the left is attired in a wool sweater, while the one of the right is wearing a silk dress. These corpses are on display at the Guanajuato panteón, or mausoleum. The composition of the soil in Guanajuato promotes natural mummification of the corpses interred in the panteón. The city charges a fee for internment. When families are unable to afford the fee, their deceased relatives are exhumed and placed on display in a museum on the panteón's grounds. The panteón then uses the mummies to earn revenue from tourists.Funeral rites in Mexico are often very elaborate. Many people decorate gravestones of their relatives and create very festive remembrances of their dearly departed. The Day of the Dead (November 1) is an annual day-long celebration of death, replete with parades, parties, and visits to cemeteries.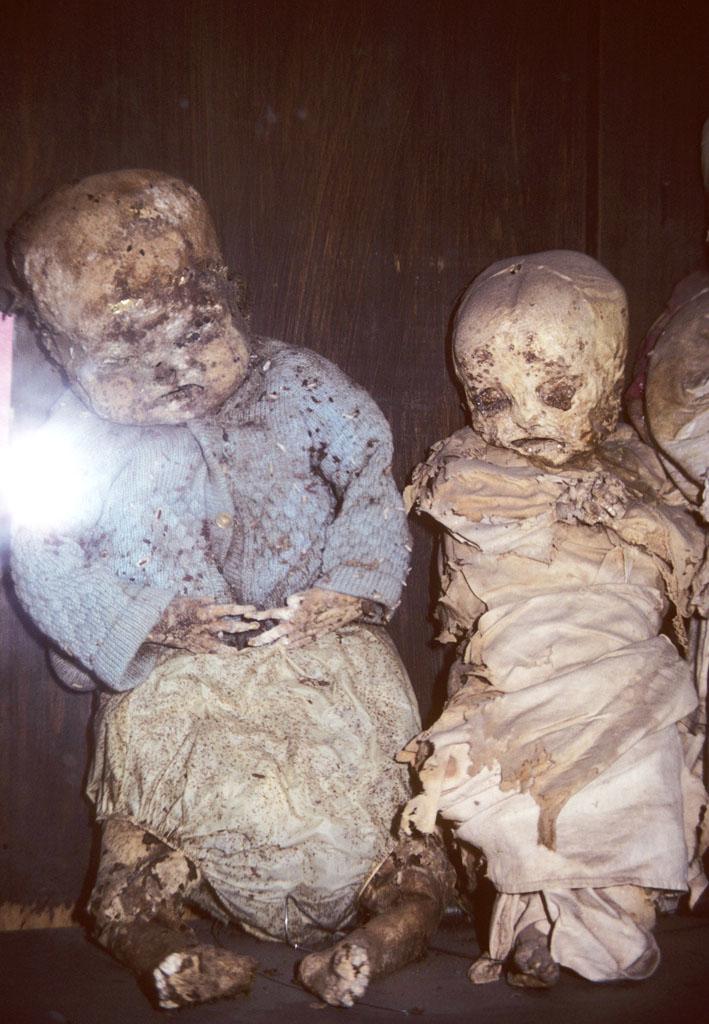 Usage Statement:
This item has a Creative Commons license for re-use.  The Creative Commons BY NC SA license means that you may use, remix, tweak, and build upon the work for non-commerical purposes purposes as long as you credit the original creator and as long as you license your new creation using the same license. That means that you cannot alter it. For more information about Creative Commons licensing and a link to the license, see full details at https://creativecommons.org/licenses/by-nd/4.0/.