Printer-friendly page
Cham tower with repair scaffolding in Po Nagar complex at Nha Trang
Scaffolds allowing workers to climb and make repairs are seen at the right and left sides of one of the main Cham towers in the Po Nagar complex at Nha Trang. Tall arched forms are characteristic of these monuments built of brick and stone by ethnic Chams between the seventh and twelfth century A.D. Both Cham and Vietnamese worshippers still use this site where the remaining buildings are each dedicated to a different Hindu deity.
Only four towers of at least seven temples remain standing at this Hindu complex which is named after a local goddess of rice farming, Po Nagar. Built during the Hindu period, Po Nagar images sometimes are depicted in the form of Uma, the ten-armed wife of the Hindu god Siva. Po Nagar also became a popular goddess with the many ethnic Vietnamese who settled in the region, They dress statues of Po Nagar in Mahayana Buddhist robes.
Maritime trade between India and China led to the spread of Hindu and Buddhist ideas to many parts of coastal Southeast Asia during the first millennium A.D. Chams once ruled a Hindu kingdom called Champa whose influence extended through what is now southern Vietnam and Cambodia.
The Champa kingdom competed with the Hindu Khmer kingdom centered in Angkor (now in Cambodia) as well as with the Chinese-influenced people of northern Vietnam. Similar buildings dating from roughly the same time period and Indian influence can be seen in Cambodia as well as in Java and southern Sumatra, Indonesia where the Hindu-Buddhist kingdom of Srivijaya ruled by A.D. 700.
Chams, now relatively small ethnic minorities living in both Vietnam and Cambodia, speak an Austronesian language related to Malay, Indonesian, and Philippines languages. Like most other coastal Malays, they adopted Hindu practices before A.D. 1,000, but then turned towards Islam when trade and political patterns changed between A.D. 1500 and 2000. In Vietnam today, ethnic Chams are divided into separate Muslim and Hindu communities.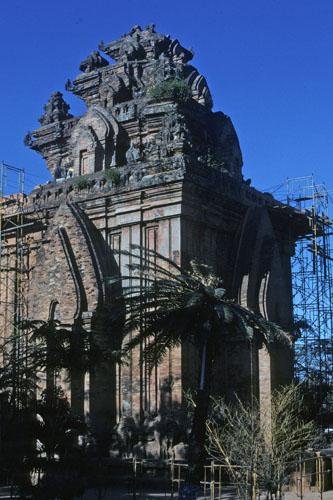 Usage Statement:
This item has a Creative Commons license for re-use.  This Creative Commons BY-NC-SA license means that you may use, remix, tweak, and build upon the work for non-commerical purposes as long as you credit the original creator and as long as you license your new creation using the same license. For more information about Creative Commons licensing and a link to the license, see full details at https://creativecommons.org/licenses/by-nc-sa/4.0/.