Bride walks through street in lacy pink wedding dress and high gloves at Mytho
A young bride walks through the street in a European-style, lacy pink wedding dress at Mytho. A matching pink lace headdress trails from her hair, and long white lace gloves reach her upper arms. The bride lifts up the front flounces of her skirt as she walks through a public city street. Two young men in street clothes, and the back end of a white car, can be seen in the background.
For more traditional-style wedding events, most Vietnamese women wear a colored silk tunic called an áo dài (pronounced "ow zai"), worn over a long silk skirt or pants, depending on the region. These tunic costumes, designed in the 1920s as a new form of unified national dress, frequently are blue or purple for wedding events.
With French and general Western media influence, many Vietnamese like to wear white or other color European-style gowns for at least some events in their multi-part marriage ceremonies. Unlike in the U.S., Vietnamese and other Southeast Asians usually participate in a sequence of ceremonies to complete their transition to married status. This provides them with the opportunity to wear several kinds of costumes during their wedding events.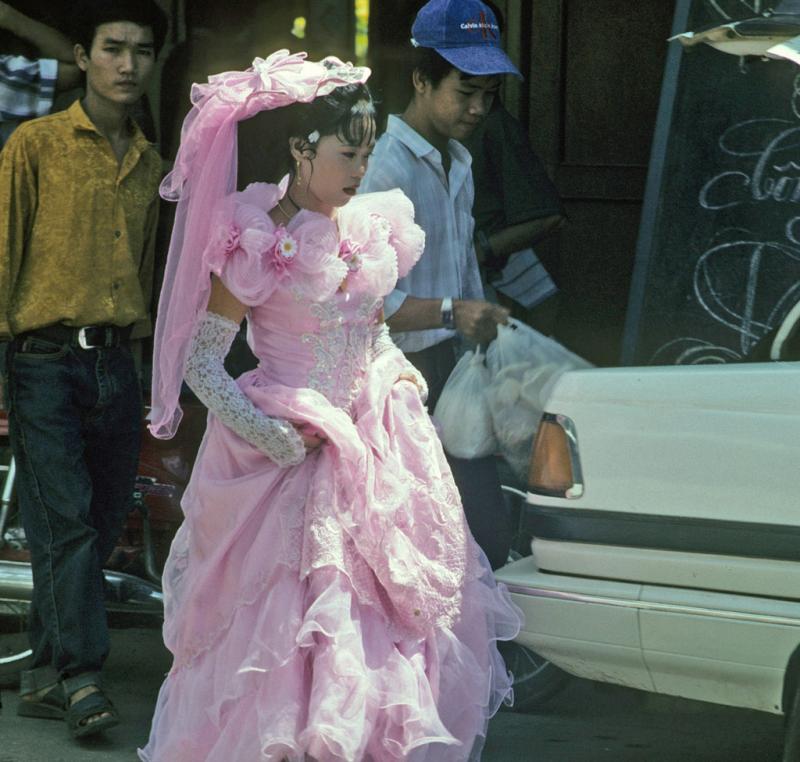 Usage Statement:
This item has a Creative Commons license for re-use.  The Creative Commons BY NC SA license means that you may use, remix, tweak, and build upon the work for non-commerical purposes purposes as long as you credit the original creator and as long as you license your new creation using the same license. That means that you cannot alter it. For more information about Creative Commons licensing and a link to the license, see full details at https://creativecommons.org/licenses/by-nd/4.0/.