Bridalveil Fall in Yosemite National Park, CA
Bridalveil Fall in Yosemite Valley, Yosemite National Park, California. Trees grow on the ridge above the fall and at a distance from the base of the fall, but the cliff on either side is bare and craggy. Bridalveil Fall plummets 620 feet from a deep cleft in the rock formations above the pool. It peaks in spring, when its flow is thundering, and the rest of the year, its flow is thinner, a shimmering, swaying sheet of water that give the fall its name. Yosemite National Park was one of the earliest national parks. Formed in 1890, it was preceded only by Yellowstone and Sequoia National Parks. Its creation was advocated by naturalists such as John Muir and Galen Clark, as well as many other influential figures. Today, it protects and preserves a broad variety of flora, fauna, geography, and Native American heritage. It is famous for its waterfalls, but visitors can also enjoy lush meadows, craggy rock ridges, and mammoth sequoias. 95 percent of the park's 747,956 acres are designated wilderness.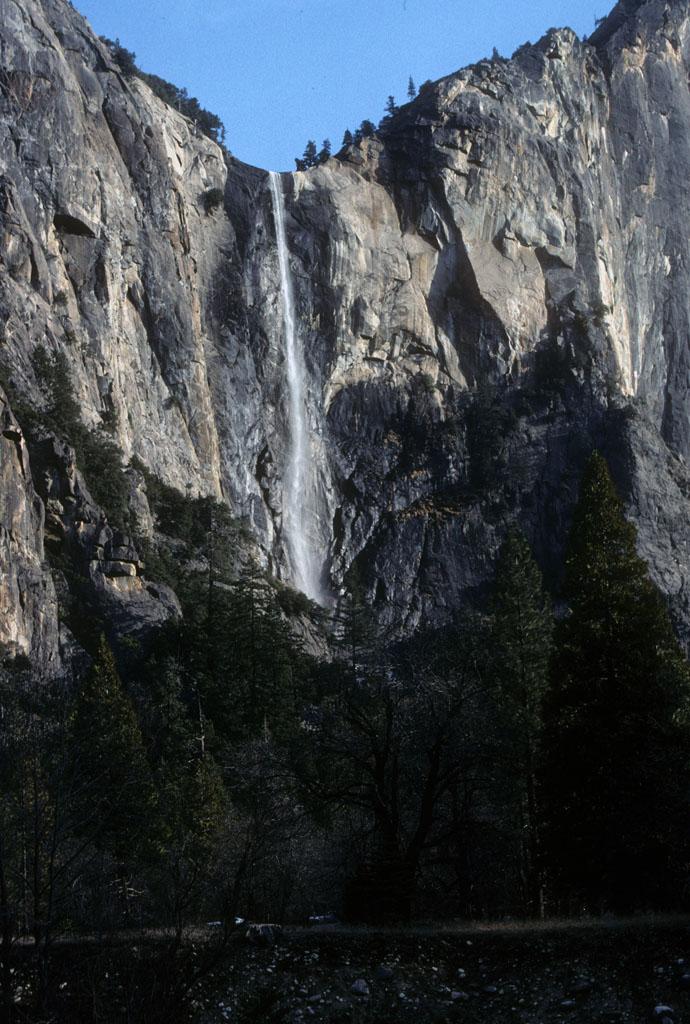 Usage Statement:
This item has a Creative Commons license for re-use.  The Creative Commons BY NC SA license means that you may use, remix, tweak, and build upon the work for non-commerical purposes purposes as long as you credit the original creator and as long as you license your new creation using the same license. That means that you cannot alter it. For more information about Creative Commons licensing and a link to the license, see full details at https://creativecommons.org/licenses/by-nd/4.0/.