Printer-friendly page
Arched doorways and walled entrance into Fukian Chinese assembly hall at Hoi An
Three arched doorways enter the walled compound of the Fukian Chinese assembly hall at Hoi An. The ornamented brick gateway has step-tiered, green tile roofs decorated with carved dragons. A large four-legged ceremonial bronze urn is seen in front of the central doorway, and stylized Chinese characters are visible above the central arches of the first and second stories.
Hoi An was a thriving sea port for sailing ships and maritime trade by the 1700s. Ethnic Chinese populations are found in all urban and trade centers of Vietnam, but they are particularly large in Hoi An. As in Singapore, many of the ethnic Chinese merchants in the town are descended from migrants from the Fukian (also written as Fukien, Fujian, and Phuc Kien) area of southern China.
Although originally built as community meeting halls for the migrant Chinese community, these compounds now are used as temples for the worship of various Fukian Chinese deities, including Thieu Hau, a goddess of the sea.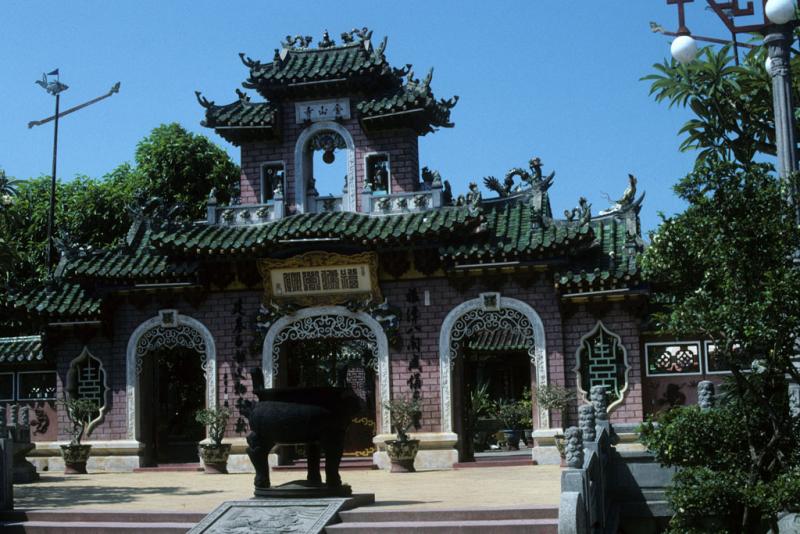 Usage Statement:
This item has a Creative Commons license for re-use.  This Creative Commons BY-NC-SA license means that you may use, remix, tweak, and build upon the work for non-commerical purposes as long as you credit the original creator and as long as you license your new creation using the same license. For more information about Creative Commons licensing and a link to the license, see full details at https://creativecommons.org/licenses/by-nc-sa/4.0/.