1552 English school seal
A 1552 school seal from Louth Grammar School in England bears the motto "Spare the rod and spoil the child."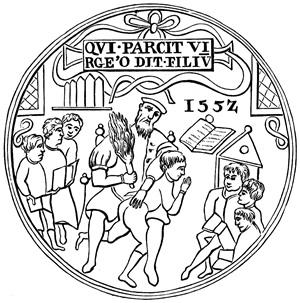 Citation (Chicago Style):
Usage Statement:
This item has been made available for non-profit use in education and teaching by the institution or organization that holds the item or it may be included in NCpedia and/or ANCHOR by permission. Please click the link to the item at the institution's website for more information about copyright or allowable uses for the item.