Printer-friendly page
General Demographics
by Alfred W. Stuart

Professor Emeritus of Geography, University of North Carolina at Charlotte, 2010.

Reprinted with permission from The North Carolina Atlas Revisited. Managing editor: Alfred W. Stuart.
General Demographics- Part 6: Native American
Part 6: Native American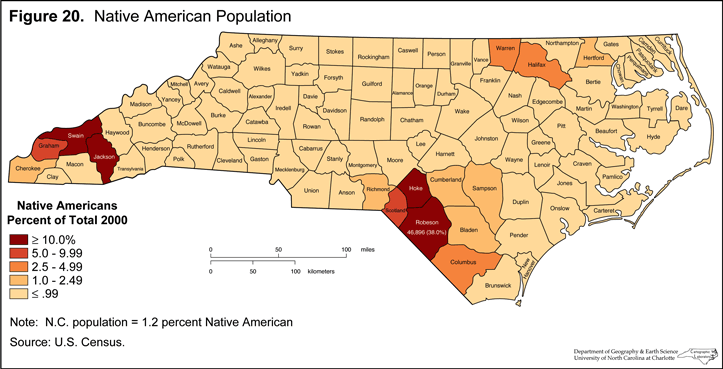 Native Americans are concentrated largely in two areas in North Carolina (Figure 20). The largest cluster is in and around Robeson County, home of the Lumbee Indians. That county alone accounts for 38 percent of the state's Native American population. Swain and Jackson counties contain a smaller concentration of mostly Cherokees while few other counties have as many as one percent Native Americans in their populations. The origins of the Lumbees is somewhat uncertain while the western Cherokees are descendents of escapes from the mid-19th century forced removal of Native Americans also referred to as The Trail of Tears.
Return to General Demographics- Part 1: Overview

1 January 2010 | Stuart, Alfred W.