Fort Raleigh: Closeup of earthworks and palisade
A reconstruction of the earthen fort built by the first European settlers of Roanoke Island in 1585. A palisade is visible to the left of the entrance to the fort. A sign reads "Fragile Earthenworks -- Please Do Not Climb." The fort is the only structure from the Roanoke settlement whose location has been located exactly. After intensive archaeological studies and excavation from 1936 to 1948, National Park Service archaeologists had found enough evidence of the original moat to justify reconstruction in 1950. Among the many artifacts recovered during excavation were a wrought iron sickle, an Indian pipe, and metal counters used in accounting. The fort, which orignally commanded a good view of the sound, was reconstructed in the same way it was built in 1585. Workers dug out the moat along its original lines, throwing dirt inward to form a parapet that enclosed approximately 50 feet square. The forst was essentially a square with pointed bastions on two sides and an octagonal bastion on the third. It is conjectured that the settlement's houses would have been built near the road leading from the fort entrance.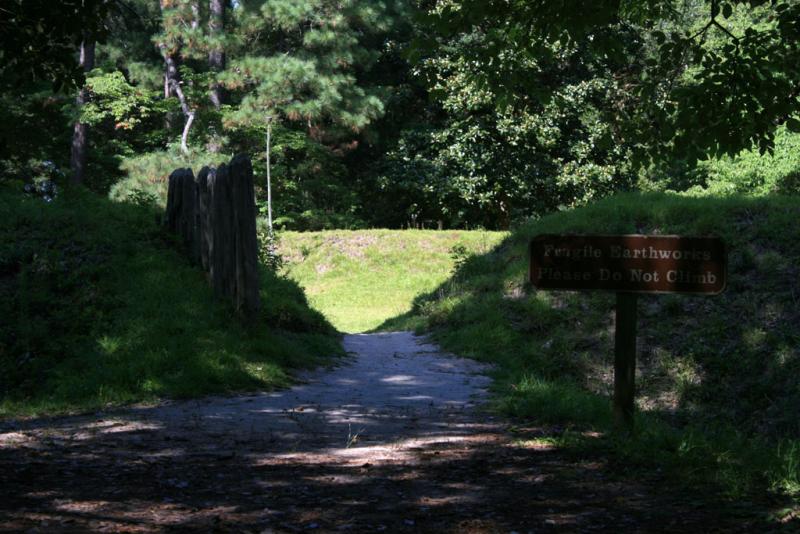 Usage Statement:
This item has a Creative Commons license for re-use.  The Creative Commons BY NC SA license means that you may use, remix, tweak, and build upon the work for non-commerical purposes purposes as long as you credit the original creator and as long as you license your new creation using the same license. That means that you cannot alter it. For more information about Creative Commons licensing and a link to the license, see full details at https://creativecommons.org/licenses/by-nd/4.0/.