Printer-friendly page
Kneeling Hanuman approaches standing Sita in painting displayed at Denpasar, Bali
The monkey god Hanuman finds Sita and a female companion in this painting photographed at Denpasar, Bali, in August 1986. In this modern Balinese painting, Hanuman kneels at the standing Sita's feet and shows her the ring he has brought from Rama as a sign of his mission to save her from captivity. All the characters are dressed in flowing Balinese-style royal clothes and crowns. Flowers, over-sized butterflies, and circle motifs float in space to fully decorate the painting's background. The painting uses only blue, grey, pink, and brown hues to fill the black outlines of the figures.
In the Thai temple mural version of the Ramayana, Sita is preparing to hang herself because she can no longer tolerate being held prisoner by the demon king Ravana. Here she stands holding a sword, suggesting she plans a different form of suicide. In the Balinese painting Sita also has a lady-in-waiting attending her, possibly because it is unimaginable that a high status young woman would be left completely alone (even in captivity) without a companion.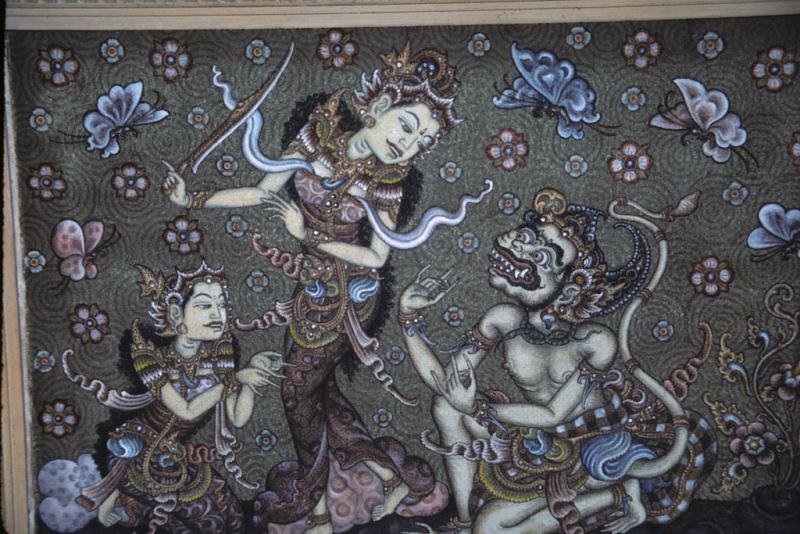 Usage Statement:
This item has a Creative Commons license for re-use.  This Creative Commons BY-NC-SA license means that you may use, remix, tweak, and build upon the work for non-commerical purposes as long as you credit the original creator and as long as you license your new creation using the same license. For more information about Creative Commons licensing and a link to the license, see full details at https://creativecommons.org/licenses/by-nc-sa/4.0/.