Balinese priest wearing black headdress and beads performs mantra
A Balinese priest wearing a black headdress and beads sits and performs a mantra, or meditative prayer using small hand gestures. At this Odalan temple festival, the priest will bless offerings and perform rites to symbolically purify the temple community.Odalan are calendrical festivals held at temples every 210 days. Traditional Balinese calendars are depicted with beautifully illustrated images, either painted on cloth or etched on lontar palms. The calendrical system is logical but unfamiliar to those of us used to the Gregorian calendar. The Balinese calendar tracks seven-day weeks (and a variety of other length weeks)that are ordered into a thirty-five day "month." Six of these months of 30 seven-day weeks make a 210-day Balinese "year," when the Odalan festival is held. Sometimes Odalan are described like "birthday parities" for temples. Because there are thousands of temples on Bali, there are Odalan ceremonies occurring somewhere on most days. Some are elaborate, while others are more simple for minor local temples.Women and girls spend many hours making offerings that are carried to the temple and blessed by a priest. Then the offering, from which the gods take the essesnce during prayers, is carried home for the family or neighbors to eat.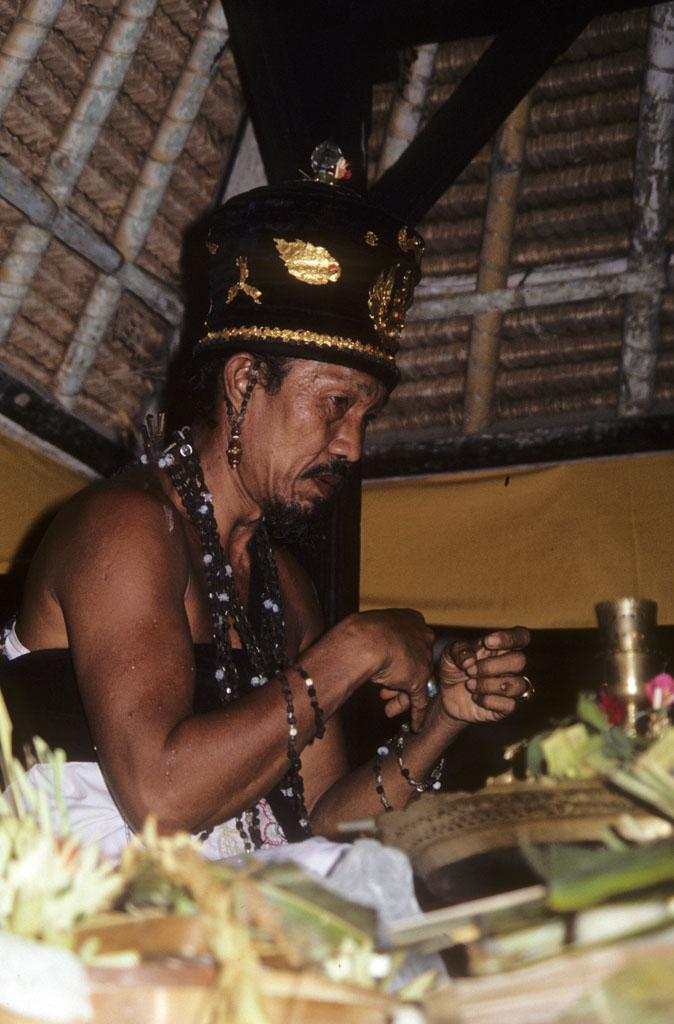 Usage Statement:
This item has a Creative Commons license for re-use.  The Creative Commons BY NC SA license means that you may use, remix, tweak, and build upon the work for non-commerical purposes purposes as long as you credit the original creator and as long as you license your new creation using the same license. That means that you cannot alter it. For more information about Creative Commons licensing and a link to the license, see full details at https://creativecommons.org/licenses/by-nd/4.0/.