Balinese man holding turtle catch for display on beach
An Balinese man standing on the beach beside a wooden fishing boat holds up a turtle he has just caught. The smiling man wears a green cap, blue jacket, shorts, and a black and white shoulder bag. Like fish, turtles are highly appreciated as protein-rich food in Indonesia.Although coastal villages such as Kuta were lightly populated with fisherman before Bali's tourist boom, most Balinese prefer to live and grow rice in the interior where fresh water is more abundant. Balinese tradition holds that the island's interior mountains are home to the gods, while the coast is home to sea demons.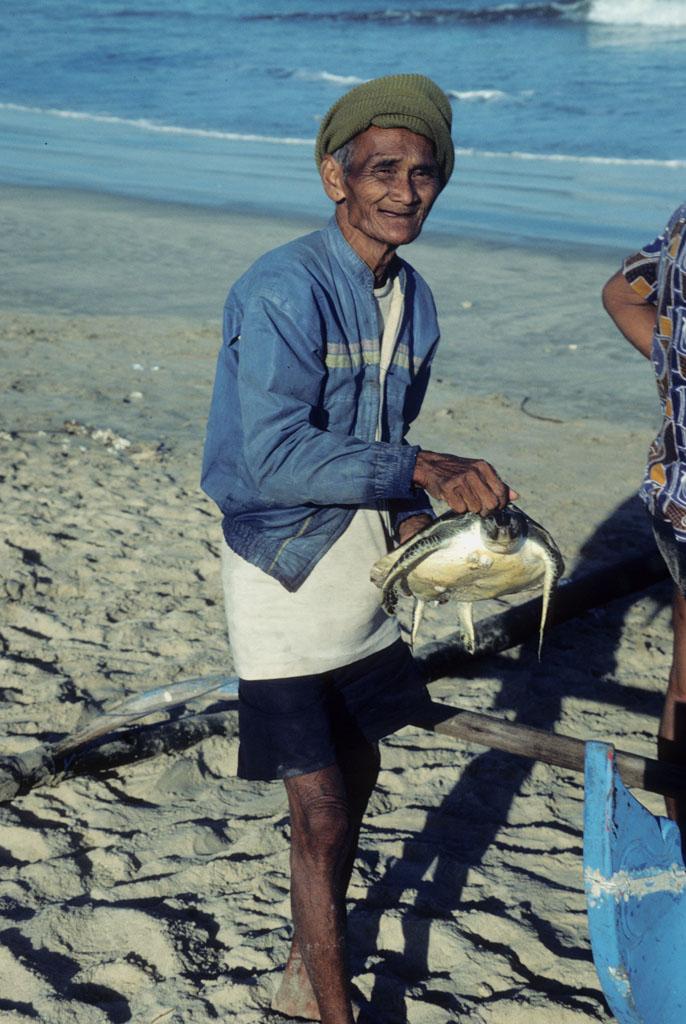 Usage Statement:
This item has a Creative Commons license for re-use.  The Creative Commons BY NC SA license means that you may use, remix, tweak, and build upon the work for non-commerical purposes purposes as long as you credit the original creator and as long as you license your new creation using the same license. That means that you cannot alter it. For more information about Creative Commons licensing and a link to the license, see full details at https://creativecommons.org/licenses/by-nd/4.0/.