Printer-friendly page
Balinese dancer advances in Rangda witch costume
A Balinese dancer advances in a Rangda costume. Rangda costumes have wooden masks with bulging eyes, and tangled white hair. The dancer also wears long knife-like fingernail attachments and sports dangling striped breasts.
Many Balinese dramas involve contests between the evil witch Rangda and her foe, Barong, a mythological creature who looks somewhat like a gilded and furry lion. The costumes for both these mythological creatures are considered sacred and thus are stored in village temples when not in use.
Many Balinese dramas enact encounters between positive and negative beings in the universe. At the end of the performances, evil beings are never completely eliminated because the Balinese accept that good and bad always will coexist although human efforts should attempt to keep evil and disorder to a minimum.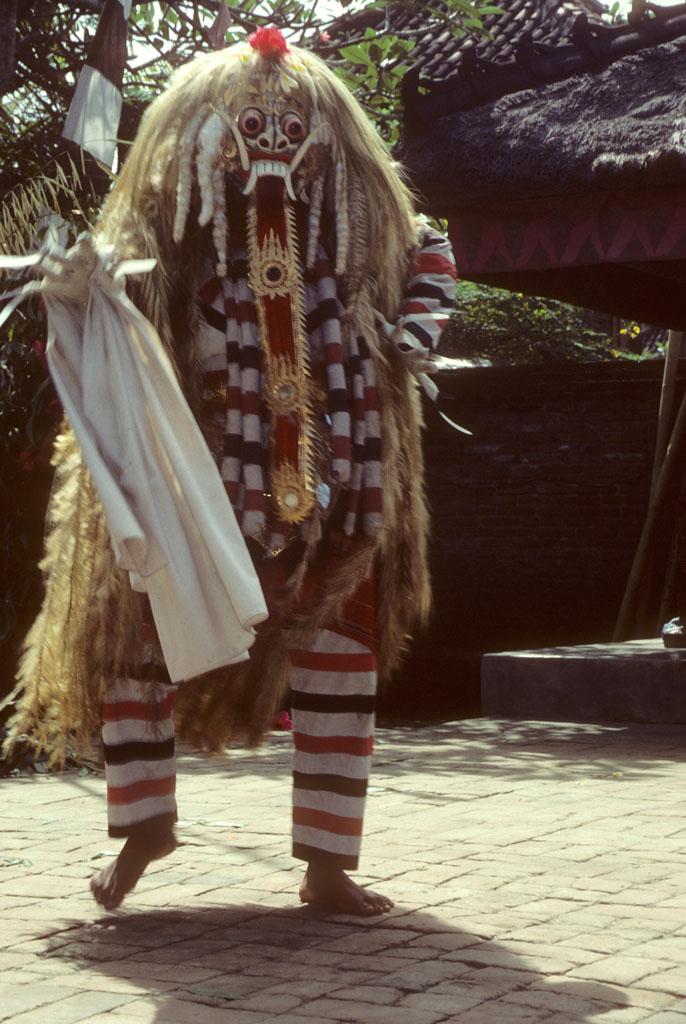 Usage Statement:
This item has a Creative Commons license for re-use.  The Creative Commons BY NC SA license means that you may use, remix, tweak, and build upon the work for non-commerical purposes purposes as long as you credit the original creator and as long as you license your new creation using the same license. That means that you cannot alter it. For more information about Creative Commons licensing and a link to the license, see full details at https://creativecommons.org/licenses/by-nd/4.0/.